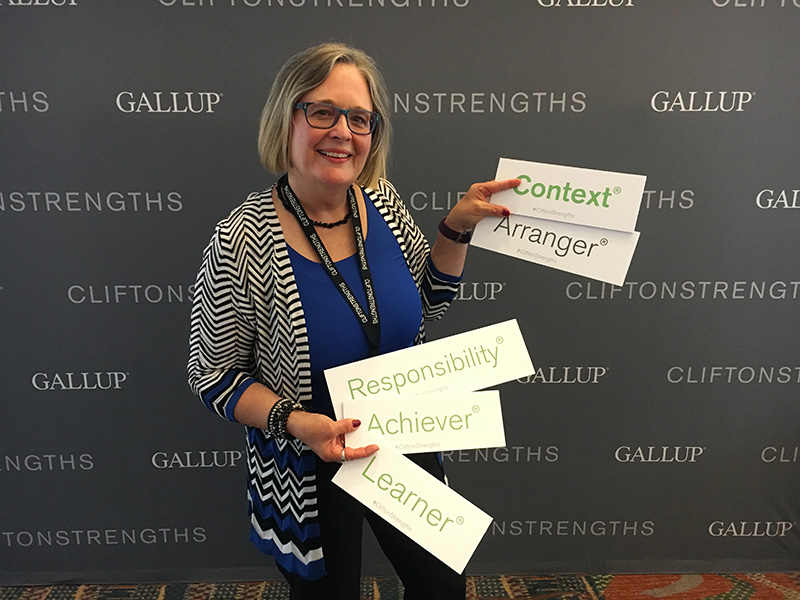 My journey to become a Gallup Certified Strengths Coach began 11 years ago. I enrolled in The Londen Institute for Evangelism in 2004 to earn a Master's of Ministry Degree. As I started my masters the first email I received contained a code to take the Clifton StrengthsFinder Assessment. I had never heard of it before, but when the results arrived, I was blown away—the description of me was like someone on the other side of this computer must know me.
My strengths journey began with the assessment, but I really didn't acquire the desire to be a coach until the final semester of courses when I realized my increased confidence from honing my raw talents into strengths. I recall closing my eyes and imagining myself in the classroom of the strengths training program, and the thrill of helping others the way I had been helped.
I believe a target was programmed into my brain that day.
Looking back, I realize that like a guided missile with a programmed target, a course was set that day, and I was destined to reach it!
Why I become a Certified Strengths Coach with Gallup
This past summer I attended Gallup's first Strength's Summit on their campus in Omaha, NE. I had been there once to receive training as an Entrepreneurial Strengths Coach. When I walked into the enormous lobby for the Summit, I was greeted by a gigantic banner announcing Gallup's Goal of "One Billion People living their Strengths."
My target from 2006 suddenly appeared in my sites.
I knew I wanted to become a part of the movement by becoming a Strengths Evangelist! What I had envisioned instantaneously became a burning desire. I determined that if there was any possible way, I was going to take the risk to invest in myself and get certified. I asked God to show me a sign this was what He wanted for me….I already had my reasons strategically planned out….
Reason 1: Credibility
There are several things that establish credibility as an EXPERT coach. One is experience. I had that. Eleven years as a certified coach… Secondly and equally as important, experience and additional specialized certifications. I had been living strengths since 2006 and pointing people toward it, but I knew my Gallup Certification would seal the deal. I confidently trusted it would bring credibility and expertise to my coaching clients.
Reason 2: Resources
Many people "pose" as experts, but the REAL DEAL is worth paying for. I knew many of my existing clients would want to include Strengths into their coaching programs. Certification would give me the tools and resources to effectively coach my clients to more effectively reach their goals.
Reason 3: Choosing The Right Certification
Gallup has the worldwide reputation for excellence that gives instant credibility to any coach with the title, Gallup Certified Strengths Coach. It is an association with a corporate organization that says, I want to give my best to my clients. The research which has gone into Strengths is second to none.
Reason 4: Joining The Gallup Network
I love being a part of something far greater than myself! Gallup has created an extensive Network for individuals to connect with coaches. The Gallup Strengths Website features a Certified Coaches Directory and many resources for connecting into the Strengths Community. The Gallup Exchange is a marketplace for setting up coaching appointments with Certified Coaches. It is much like the Uber and Air B&B model. Gallup's philosophy that "Everyone Needs a Coach" is carried out by these two resources. To be a part of making this philosophy a reality as a Gallup Certified Coach makes me excited to be a Strengths Evangelist.
Reason 5: Strengths Evangelism
I get to be a Strength's Evangelist everyday as a Coach. What began as a journey of faith based evangelism sharing the "good news" has transitioned to include sharing the "good news" of Strengths. Everyone has strengths and when we learn about them and develop them that is truly good news.
Bringing it all together
If we can become closer to our creator so that we can accomplish everything that He wants us to accomplish, that's where it becomes a heart thing for me. I get the opportunity to be an evangelist for Gallup's Strengths as a way to help people accomplish their purpose for being alive.
Now Its Your Turn
What is the reason you do what you do? Even one powerful reason for "why" you get up and go to work everyday is more than some people have. Share your why and what is news worthy and good about it.